..... The herd at Beloved farm is lovely! We have many colors, from blond to black with belts, moon-spots stars and stripes galore. Come visit and taste the fresh milk free of "goaty" flavor. The does were chosen for their excellent milk, conformation, pedigree, and beauty. The Bucks were chosen because of the complete list of traits to compliment the does.
To see individual pedigrees and photos please visit
http://belovedfarm.webs.com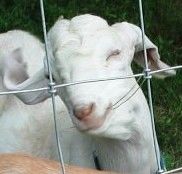 We have 2 MDGA Registered Mini-Nubian Bucks.
"Beloved and Full of Fun" (Andy) is by Hoanbu FM Full Power and out of Rainbow Hill Freckle
"Ramblers Fair Haired Boy" ( Midas) is by Almost Paradise Whit and out of Green Gables J Lyn
These boys have really nice pedigrees and really nice features. Some of the pedigree information is below. I would like to add photos as I can. More pedigree information can be seen at:
http://belovedfarm.webs.com
The Does at Beloved Farm are very special.

Rainbow Hill Willow, (called SIBIAL =She Is Beautiful In Any Light) an American Mini-Nubian . . ............. from Rainbow Hills Dairy Goats in Atascadero California

Rainbow Hill Freckle, An American Mini-Nubian full sister to SIBIAL by Echo Hills Saxon, -out of Blue .................Moon Ranch Portia

Beloved Fairy Tale (call name "Story") by Rebel Issac, out of SIBIAL

Beloved Dearly -by Hoanbu FM Full Power, out of Freckle

Beloved Music Box -by Kieran, out of SIBIAL

Beloved Chocolate Easter Bunny -by Kieran, out of "Story."

MornMist Shamrock (Nubian) -by Achilles, out of Nibbles

Beloved Lucky Charm (Nubian) -by Kieran, out of Shamrock

Beloved Friendships (Mini-Nubian) -by Woody out of Talia